How does the technology work?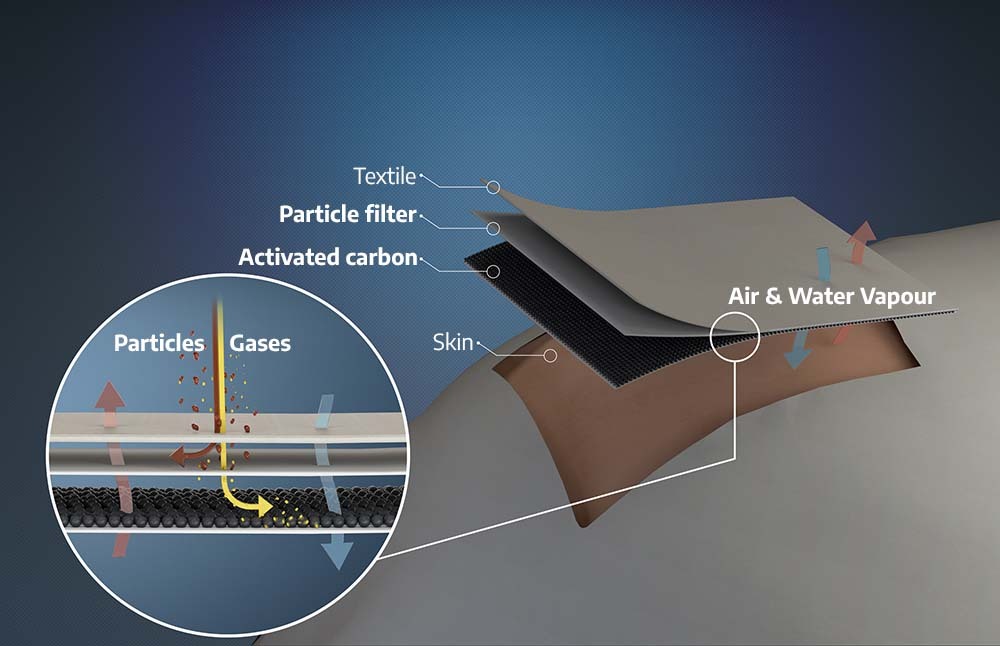 Swedish know-how and German patented technology have made our unique CPP undergarment possible.
The undergarment consists of three layers of fabric:
Textile
Outer layer consists of 88% cotton and 12% elastane.
Particle filter
An intermediate layer consisting of 100% polyurethane, with a fine-fibre particle filter that reduces the skin's exposure to hazardous particles.
Activated carbon
A layer consisting of 100% activated carbon, which adsorbs hazardous fire gases. The spheres of activated carbon are applied on a fabric made of 100% cotton (closest to the skin).
The particle filter minimizes the skin's exposure
The fabric layer with particle filter consists of a fine-fibre particle filter made of polyurethane.
This layer minimizes the skin's exposure to toxic PAH-particulates. It is an extra layer taking care of some of the remaining particles coming through the fire suit.


Higher protection effectiveness with activated carbon
The layer with activated carbon is the one with the highest protection effectiveness. It consists of tightly applied carbon-spheres with a diameter of about 0,3 mm. In the production process, each individual sphere is produced to withstand a physical load of up to 40 N (=load of up to 4 kg) so very good durability at, for instance knees and elbows.
Activated carbon has unique properties with small pores and a large pore volume that creates a large surface where adsorption and chemical reactions can take place. The inner adsorptive surface of CPP's activated carbon is 1580 m2 / gram.
Each undergarment has a surface area greater than 400.000 m2, corresponding 60 football grounds, to adsorb the hazardous fire gases (PAH).


Lightweighted, durable and air permeable
Long experience, rigorous quality control and unique technology enables the lightweighted and durable fabric with good permeation of air and moisture.
The fabric binds gases, particles and odours at the same time it is permeable to air and vapour.
The undergarment could be laundered after each use to remove dirt and fire smoke residues.
The undergarment has been tested with the help of Swedish smoke divers and should always be used together with fire suit EN469.


Please fill in below if you want more info about the new undergarment for firefighters.